Theatres & Showtimes For Saturday April 21 to Thursday April 26
Journey 2: The Mysterious Island
Sean (Josh Hutcherson) goes on a new journey when he receives a distress signal from an island where none is known to exist. Thinking it might be the "Mysterious Island" Jules Verne wrote about, and that the signal may have come from Sean's grandfather, the boy and his new stepdad (Dwayne Johnson) decide to travel halfway around the world to find the island, with the help of a helicopter pilot (Luis Guzman) and his daughter (Vanessa Hudgens).
Theatres and Showtimes
Trailers & Clips
Websites
Sorry, we have no Links available for this Movie.
Family |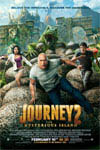 0.00
ThisCity user Rating: [0.00] 0 voice(s)
Reviews