Live Music with DJ Jewel, Set It Off and DJ Pump @ Broken City. 7pm-10...
Event Listed by Broken City
Happy Hour 3-6pm>$4.50 Domestic Pints, Hib...
Bottles, $5 House Wine & $5 Jamesons Irish...
Lunch Feature 11am-2pm|$5 1oz. Caesars, $7...
Mojito Friday
$4 Mojitos all day and night!

KICKING HORSE RIVER RAFTING TRIPS & PACKAGES - Alpine Rafting offers a v...
Activity Listed by Alpine Rafting
The Southern Alberta Jubilee Auditorium provides a place of celebration where community spirit and cultural enr...
With its 265,000 square feet - more than six football fields – that can be combined, divided, decorated, wired ...
Scheduled for May 24 (evening) and May 25 (daytime), at the Acadia Recreation Complex (240 90 Aveune SE), The C...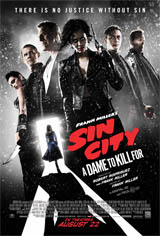 Action |
Based on the comic book by Frank Miller, the much anticipated sequel focu...
Also New This Week
As the premiere site of the XV Olympic Winter Games in Calgary, Canada Olympic Park ( COP ) is perhaps the most...
Step back in time. Enjoy a horse drawn wagon-ride, sail on the SS Moyie, experience the thrill of an antique mi...